Banner of St. George
Year:
End of the thirteenth century
Material and technique:
silk and leather painted and gilded
Origin:
Church of Saint George in the Velabrum
Lo Stendardo di San Giorgio è il più antico esemplare di bandiera in Italia. Conservato originariamente a Roma nella Basilica di San Giorgio al Velabro, dove nell'VIII secolo papa Zaccaria aveva destinato la reliquia del cranio del Santo, veniva appeso a un'asta orizzontale ed esposto nelle processioni civili e religiose che scandivano i momenti salienti della vita della città. 
Lo stendardo fu, probabilmente commissionato da Jacopo Caetani Stefaneschi (Roma 1270 circa - Avignone 1343), cardinale titolare della basilica di San Giorgio al Velabro dal 1295 al 1301. E' realizzato in sottile seta rossa e ornato con ricami ed elementi applicati in cuoio argentato, dorato e dipinto, conserva tracce della raffigurazione dell'episodio più famoso della vita di San Giorgio, tratto dalla Legenda Aurea di Jacopo da Varagine della metà del Duecento: l'uccisione del drago e la liberazione della principessa. Nella parte superiore si sono potuti ricostruire alcuni elementi originali della scena: San Giorgio a cavallo atterra e trafigge con una lunga lancia un drago alato al cospetto della principessa, mentre in lontananza, tra i merli delle torri di un castello stilizzato, si affacciano i genitori della fanciulla che assistono alla scena. In alto, al centro, corre l'iscrizione in lettere capitali gotiche: "S(anctus) Geor(g)ius", mentre l'orlo inferiore termina con lunghe strisce rettangolari, o "code", orlate di passamaneria di vari colori. La raffinata manifattura delle figure sul fondo di seta rossa, realizzate con inserti in seta di diverso colore, consentiva in origine la visione della scena da entrambi i lati. Trasferito ai primi del Novecento dal Velabro al Vaticano, lo Stendardo è giunto a noi grazie al delicato intervento conservativo cui fu sottoposto presso i Musei Vaticani nel 1934. Il prezioso cimelio fu donato al Comune di Roma nel 1966 da Papa Paolo VI, in occasione della sua visita ufficiale in Campidoglio. Nel 1992 è stato affidato all'Istituto Superiore per la Conservazione e il Restauro di Roma per un complesso restauro.
The hall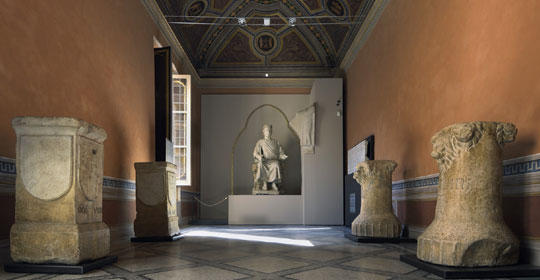 The Hall of the sixteenth century Capitoline Archive in the Palazzo dei Conservatori houses the new Hall of the Middle Ages of the Capitoline Museums, with a striking exhibition of the honorary monument of Charles I of Anjou. In the room there are also other works that help to illustrate the history of the Capitoline in the Middle Ages.
You may also be interested in