Palazzo Nuovo
The Palazzo Nuovo was built only in the 17th century, under the direction of Girolamo Rainaldi and his son Carlo.
Its oblique orientation, which echoes that of the opposing Palazzo dei Conservatori, was previously marked by a large retaining wall on the hill of S. Maria in Aracoeli, in the centre of which the fountain with the statue of "Marforio" was placed, then moved in the courtyard of the Capitoline Museum.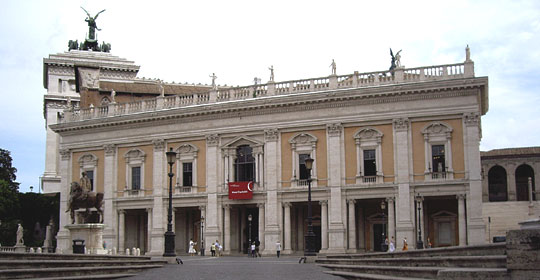 The new building, externally identical to the Palazzo dei Conservatori, was characterized by symmetrical organization of the internal spaces.
The decoration of the rooms, with wooden ceiling coffers embellished with gilding on the main floor (piano nobile), is still preserved.