Museo Nuovo (ex Museo Mussolini)
The rooms currently closed to the public and located below the Caffarelli terrace were part of the Mussolini Museum's setting, arranged according to strictly scientific criteria in ten rooms, and inaugurated in 1925, as the epigraph, displayed alongside the Caffarelli palace which limits the homonymous Belvedere, still reminds of.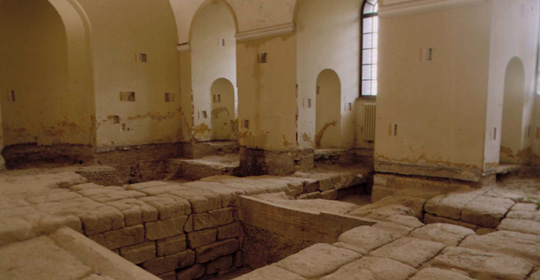 In the immediate post-war period, and starting from 1950, a new arrangement of these rooms was carried out, also connected to the being constructed Braccio Nuovo, created in 1952 (current area of the temple of Jupiter), thus changing the name of the Mussolini Museum with that of Museo Nuovo. Unfortunately, already towards the end of the fifties of the last century, serious static problems led to the closure of these spaces which still await a new arrangement today.
The rooms have been the object of archaeological investigations:
- first phase: the corresponding area in the Caffarelli Garden was also investigated;
- second phase: investigations among the foundations of the temple of Capitoline Jupiter, which occupy the whole area of the Palazzo Caffarelli.