Gallery
At the north-eastern end of the gallery is a well-preserved example of the pavilion vaults which originally made up the roof, almost completely hidden by later alterations. On the wall, a large fragment of a marble lintel from the Temple of Concordia in the Roman Forum dating back to the I century AD. 
The large archways in the gallery were walled up during the Middle Ages as part of the building's transformation into a fort, and have only been partially restored. They afford an excellent view over the whole archaeological area of the Roman Forum, with the Colosseum and Palatine Hill in the background.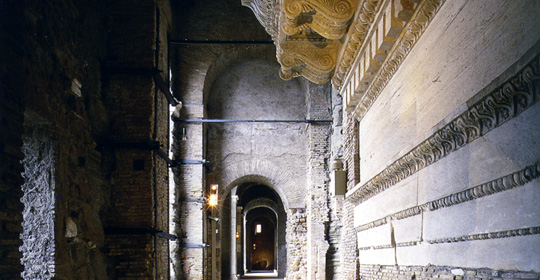 In front of the Roman Forum, the large arches of the arcade in opus quadratum made of gabine stone (a kind of tufa coming from the territory of ancient Gabii), as a great bridge, put in communication the two sides of the hill. It consists of 11 spans, originally covered by a cloister vault, supported by gabine stone columns with capitals and cornices in travertine; the last span preserves the original vault.
The gallery overlooked five blind rooms, which were similar and parallel.
A steep staircase, inside the substructio and no longer accessible, connects the floor of the Roman Forum to the Temple Vejovis; a second ramp, opposite to the first and preserved only in part, connected to the upper floors of the Tabularium and probably to the archive.
A plate glass, at the centre of the corridor, closed the ventilation shaft of a water culvert built in the lower gallery during the Flavian period.