Galleria Lapidaria
The underground gallery (Galleria di Congiunzione) linking the Capitoline palazzos was built at the end of the 1930s underneath Piazza del Campidoglio; inside the gallery we can see the remains of two-storey ancient Roman dwellings dating back to the II century AD. 
The Gallery currently houses the Musei Capitolini' new Galleria Lapidaria, with a selection of the most important items from the Capitoline's epigraphic collection.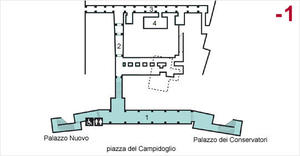 The Gallery, built in the late 1930s to link the two Capitoline buildings, is about 8 meters below the level of Piazza del Campidoglio. During excavations for its construction workers came across the remains of an ancient road that went from the Capitoline hill to the Campus Martius. Some buildings of the Imperial period ran along the road, one of these is incorporated into the museum and is characterized by columns with corbels that support balconies.
In 1957, on the occasion of the Third International Congress of Greek and Latin Epigraphy, an exhibition of about 1400 marble inscriptions of Roman times on the walls of the gallery was inaugurated, but it closed to the public twenty years later for humidity.
Following the restoration of the walls and inscriptions, the Galleria Lapidaria was reopened to the public in 2005, with a new exhibition criterion and a comprehensive information system.
130 inscriptions are displayed on both sides of the long gallery, arranged thematically to illustrate the different aspects of public and private life in Ancient Rome; the reading and understanding of the texts is facilitated by a comprehensive information system.
The exhibition is arranged into several thematic sections:
 - Languages
 - Professions and trades
 - Games
 - The sepulchre
 - The cult
 - The law
 - Roads and aqueducts
 - Soldiers
 - Roman aristocracy
The Altar of the Vicomagistri is also exposed as an example of dedication to an emperor.
A computer terminal provides access to databases with pictures and information about the 1400 inscriptions on display at the, including those preserved in the Museum store.
A Touch Tour is currently available at the Gallery. It introduces visually impaired visitors to the tactile exploration of two finds and a model of Palazzo Senatorio, with explanatory texts written in Braille.