Restoration of the "Finding of Romulus and Remus" by Rubens.
Thanks to a special construction site set up in the Santa Petronilla room, visitors of the Capitoline Museums will be able to follow all the phases of the restoration of the Finding of Romulus and Remus by Peter Paul Rubens (1577-1640), by the restorer Nicola Salini.
The intervention will end by January 2013 and is carried out by the Superintendency of Cultural Heritage of Roma Capitale thanks to the contribution of The Mainichi Newspapers, organizers of a major exhibition on Rubens to be held in Japan in 2013.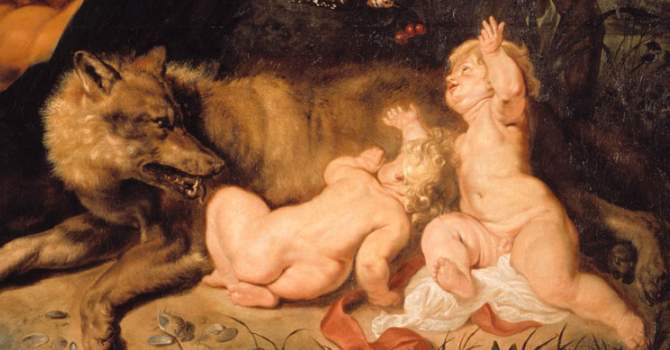 The Finding of Romulus and Remus is carried out by Rubens in Antwerp around 1612 at the age of 35. The artist returned home a few years after a long stay abroad (Italy and Spain), created this painting as a tribute to the history of Rome, where he had lived and worked in the years 1601-1602 and 1605-1608.
Rubens painted the Finding of Romulus and Remus when he was establishing himself as one of the main protagonists of seventeenth-century European culture. Thanks also to an extraordinary group of assistants, the painter created a famous series of great works requested by the main courts throughout Europe.  His style combines a refined use of colour, derived from Venetian painting, and profound knowledge of classical art, as can also be seen in the painting preserved in the Campidoglio (and as it will appear more clearly after the restoration work).
The painting, one of the works most requested and appreciated by the public, depicts the moment when the shepherd Faustolo, who rushes to the right, finds the twins Romolo and Remo on the bank of the Tiber while they are suckled by the she-wolf; on the left, there are a muscular old man, the personification of the Tiber river himself, and Rea Silvia, the mother of the twins. The background is dominated in the centre by a large fig tree (the famous "Ficus Ruminalis").
Belonging to Cardinal Giovanni Francesco Guidi di Bagno, Apostolic Nuncio in Flanders in the period 1621-1627, the painting was subsequently moved to Rome with the Pio family and in 1750 sold to the Capitol together with other important works of the collection.