II Hall - The Sixteenth Century in Ferrara
The room houses paintings coming from Ferrara, the capital of a small independent duchy, ruled by the Este family, whose polished court attracted many writers and artists. The formal elegance is the main element of the artistic production of Ferrara, one of the main centres of Italian Renaissance.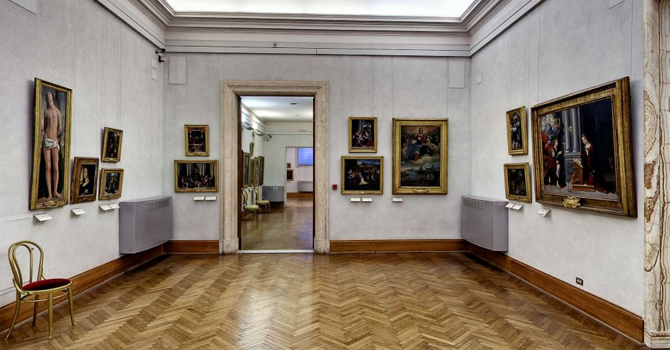 The works in this room come from Ferrara, the capital of a small independent state which was annexed to the Papal States in 1598. Because of its geographical location – in the north-eastern part of the Emilia-Romagna, not far from the sea – the city had naturally close cultural relations with Venice, Padua and Bologna, and since the fifteenth century had become a major centre of Italian art. The painters of Ferrara, particularly in the first half of the sixteenth century, are characterized by a combination of Venetian artistic preferences, based on a bright chromatic scale, and a soundly composed design, characteristic of central Italian production. After Ferrara's incorporation into the Papal States in 1598 the artistic heritage of the city was literally looted and several paintings from the extensive collection - as well as from churches and convents - became part of the main Roman collections.
The Annunciation by Garofalo (Benvenuto Tisi), painted in the spring of 1528, comes from the Convent of San Bernardino. The magnificence of the Archangel Gabriel's garments contrasts with the simplicity of Mary, depicted in domestic intimacy; the three carnations in the foreground are an overt reference to the artist's nickname. Garofalo was particularly appreciated in Ferrara and a crowded "art bottega" gathered around him. Madonna with Child dates back to his early period: it was painted around 1512-13 and shows strong influences from the early Roman works of Raphael.
 Raphael's and Venetian influences appear in the majestic Holy Family by Dosso Dossi painted around 1527-28, originally intended for the altar of a church: the Virgin, dressed in an elegant red dress and a beautiful mantle stops reading a sumptuous illuminated manuscript and turns to the Infant Jesus, who is held by St. Joseph. Dosso Dossi was the most brilliant painter of the Ferrara Renaissance, ranging from religious subjects to mythological themes.
The Flight into Egypt by Scarsellino (Ippolito Scarsella) was painted shortly before 1595, when the school of Ferrara was reaching its conclusion. The colours are now more subdued, and while maintaining a traditional elegance the painting lacks the joyful splendour that characterized the art of Ferrara. Scarsellino painted also the Adoration of the Magi in which the Holy Family is depicted in an architectural setting, rather than in the usual stable.