Courtyard
The two porticoes on opposite sides and the large open-air space contain important examples of Roman sculpture. 
On the left we can see remains of the cell decoration from the Temple of the God Hadrian, with reliefs portraying the Provinces of the Roman empire and military trophies. 
Along the righthand wall of the courtyard, containing the embedded remains of three archways belonging to the palazzo's original XV century structure, is a row of fragments from a colossal statue of Constantine from the Basilica of Maxentium.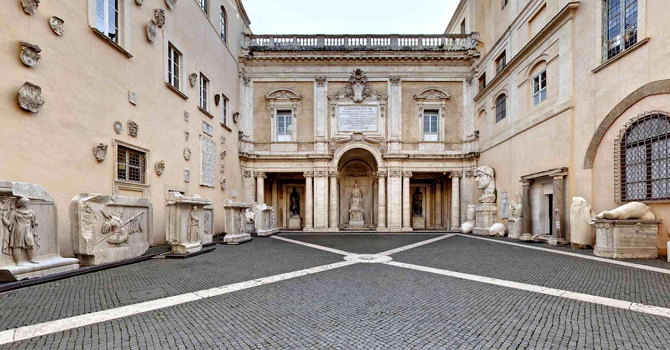 The courtyard of the Palazzo dei Conservatori is a very suggestive space of its monumental architectural elements and fragments of ancient colossal structures. From the beginning of the history of Capitoline museum, as it was customary in the palaces of the Roman nobility, some of the most significant ancient works of art were collected in the Capitoline as a witness to the greatness of Rome.
The ogee arches, which are still visible on the right side, gave access to a large room, the "statuario", intended to house other works of ancient art.
The shape of the courtyard in the early decades of the sixteenth century, smaller than the present one and crowded by numerous archaeological finds, is known through descriptions and drawings of contemporaneous artists.
A porch at the entrance of the building, incorporating architectural elements of the exterior was built along with the architectural renovation of the Palazzo dei Conservatori in the second half of 1500.
 Some of the works were moved into the halls of the Palazzo, whereas the marble fragments of a colossal statue of Constantine (306-337 AD), discovered in 1486 in the Basilica of Maxentius in the Roman Forum, remained in the courtyard. The statue representing the emperor seated was built using the acrolith technique: only the nude parts were carved in marble, mounted on a carrying skeleton structure covered with a gilded bronze drapery or precious coloured marbles.
The courtyard was expanded in 1720 with the construction of the portico, on the back wall; it was designed by Alessandro Specchi (1668-1729) to accommodate a group of sculptures of great value: the Goddess Rome and the two Barbarian prisoners from the Cesi collection, purchased by Pope Clement XI (1700-1721) for the Capitoline Museum.
At the end of the nineteenth century, the reliefs with personifications of Provinces and trophies of arms were placed in the courtyard; they were found in the Temple of Hadrian in Piazza di Pietra. The reliefs depict the personifications of the provinces subject to the Roman Empire during its greatest expansion.