Conservators' Apartment
The rooms making up the apartment on the first floor of the Palazzo, were used by the Conservators, or magistrates, for activities connected to their office; they therefore form a single entity, both as regards their function and their ornamental features. The rooms were also used for Public and Private Council meetings.
 
The rich decoration of these reception rooms (frescoes, stuccoes, carved ceilings and doors, tapestries) has as its main theme the history of Ancient Rome, from its foundation to the Republican Age.
The earliest cycle of frescoes goes back to the beginning of the XVI century.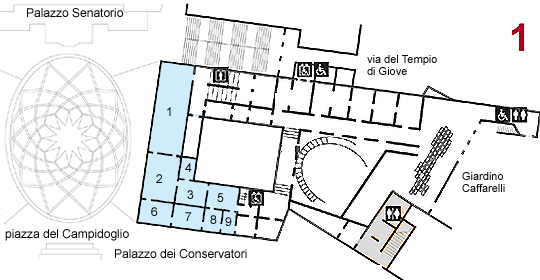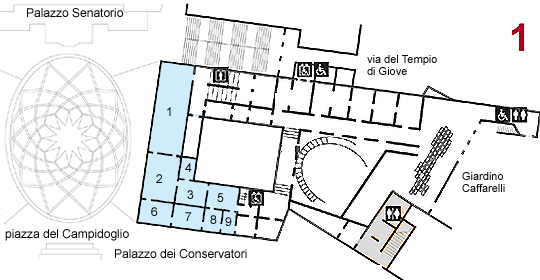 The main floor of the Palace houses the Ceremonial Rooms of the Conservators, also known as the Apartment.
They are the oldest part of the Palace: some rooms preserve parts of the series of frescoes painted at the beginning of the XVI century, whereas the decorations of the other rooms were renewed after Michelangelo's renovation.
The whole decoration of the Apartment, though it was painted separately and subsequently, present a uniform appearance dedicated to the extolling and memory of the virtues and value of the Ancients.
Some ancient bronze sculptures were also installed in these rooms: they were presented by Pope Sixtus IV to the Roman people due to their symbolic value, in memory of the greatness of Rome which the papal government intended to renew.
The donation of the Sistine bronzes is considered to be the foundation of Capitoline Museums, since then several works of art, sculpture and paintings of value, were collected in the Capitol.